Internationalisation Of Fei Cui Standard: Globalised Harmonisation Work Across Key Stakeholders And Associated Regulatory Communities
Dear Members and Friends.
As you know, on 27th July, GAHK hosted an important event, Internationalisation Of Fei Cui Standard: Globalised Harmonisation Work Across Key Stakeholders and Associated Regulatory Communities, at the Hong Kong International Jewellery Show, as co-organisers with HKTDC together with CIBJO and HKCTC.
This was to explore the way forward to effect the Internationalisation of the Hong Kong Fei Cui Standard and was our first on-site and online event with an impressive lineup of ten speakers. A first step was seen to be taken early in the event when GAHK and The Gem and Jewelry Institute of Thailand (GIT), in a clear statement of mutual recognition, signed an MOU promising future cooperation in research and education.
With HKTDC and CTF providing exceptional technical expertise linking the online participants to the live event, the result was a truly international event of significant importance.
For anyone unable to attend on the 27th or wishing to revisit the event, please simply click on this link to GAHK Facebook page https://www.facebook.com/GAHKorg/videos/534173991134839, https://www.facebook.com/102016802159551/videos/534173991134839.
The event photos and videos of 27th event will also be posted on Fei Cui Standard Website (https://feicui.gahk.org/index.php?route=gahk/news&news_id=11) very soon. Meanwhile here are a few photos we should like to share with you. A brief report is attached below https://feicui.gahk.org/20210727 .
International Affairs Team, GAHK
Team members: Dr Norman Siu (27th event coordinator), Ms Irene Leung, Mrs Anne Carroll Marshall, Mr Edward Johnson, Mr Eddie Fan, Dr Edward Liu, Mr Johnson Li, Mr Tommy Tsui
Working team members of 27th event: Ms Fanny Yu & CTF zoom team colleague, Mr Barry Yu, Ms Eurosia Ng, Mr Henry Leung, Ms Helen Leung, Ms Clara Luk, Ms Cecilia Chan, Mr KC Yu, Mr Eric Choi, Mr Tony Wong
This brief report is prepared by Dr Norman Siu, event coordinator and moderator of this international event. Special thanks to Mr Barry Yu, Mr Tommy Tsui, Ms Irene Leung and other teammates for sharing their photos on WhatsApp. Acknowledgement also to Ms Fanny Yu and her colleagues as some pictures have been captured from their live broadcast video on GAHK Facebook page.

Group photo of keynote speaker CIBJO President Dr Gaetano Cavalieri & Communications Director Mr Steven Benson, panel speakers, moderators Dr Edward Liu and Dr Norman Siu; onsite group photo of event organizer HKTDC Ms Sophia Chong & Ms Iris Wong, event co-organizer HKCTC Ms Jane Lee & Mr Steven Chan, representatives of supporting organisations, keynote speaker Mr Kent Wong, Professor Mimi Ouyang and the event working team members.

The event began officially at 13:45pm, when MC Mr Johnson Li welcomed the onsite VIP guests and the online participants joining on the CTF zoom platform.

Moderator Mr Edward Johnson and GAHK International Affairs Team member Mrs Anne Carroll Marshall welcomed the guests and participants joining our event on the CTF zoom platform and on GAHK's Facebook LIVE (https://www.facebook.com/102016802159551/videos/534173991134839).

Mr Eddie Fan gave the opening speech. Mr Eddie Fan signed the MOU document in Hong Kong and GIT Mr Sumed Prasongpongchai signed the MOU document in Thailand simultaneously. Following the GAHK/GIT MOU signing ceremony Mr Fan held up the signed documents for us all to see. This signified that GAHK and GIT would be going to collaborate closely and consult one another on matters of mutual interest to achieve their common objectives of advancing and promoting the coloured stone, Fei Cui and corundum, standardization and training in the field of gemmology for mutual benefits.

| | |
| --- | --- |
| | |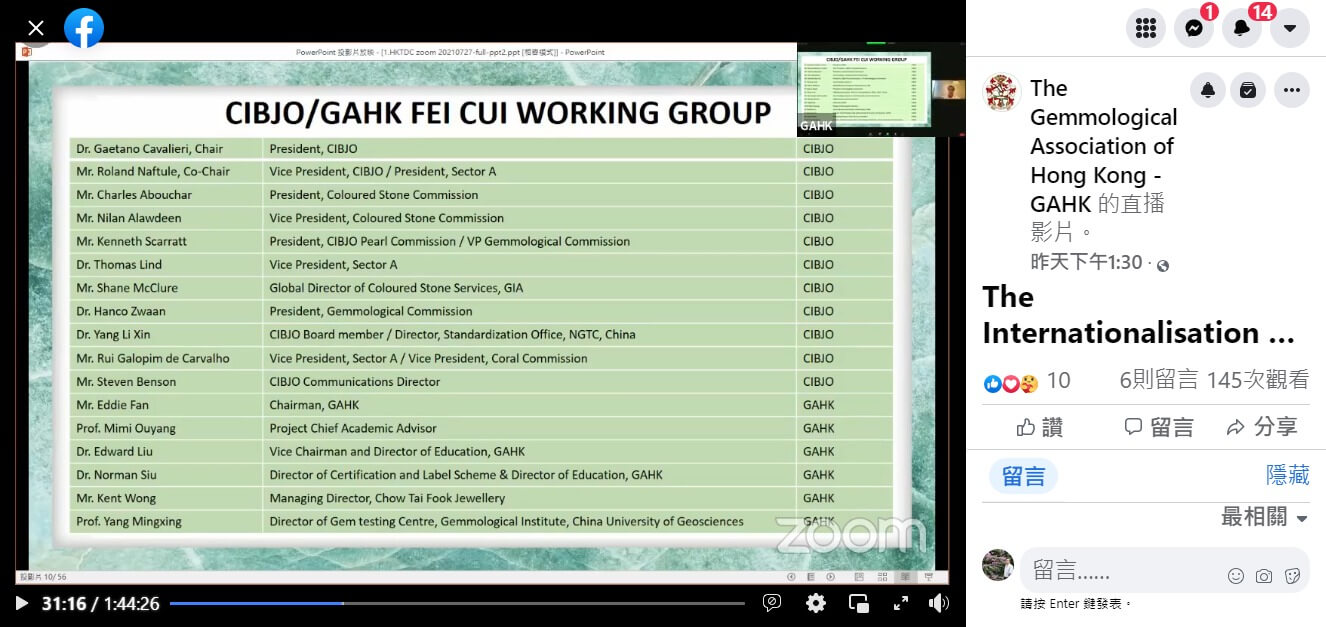 CIBJO President Dr Gaetano Cavalieri delivered his keynote speech online. He announced that CIBJO was setting up a Fei Cui Working Group and introduced each member in turn. The group included senior officials from CIBJO and GAHK, and leading gemmological and geological experts from around the world. Dr Cavalieri would chair the group, and co-chair would be Mr Roland Naftule, CIBJO's Vice President and President of Sector A. Other members included Mr Charles Abouchar and Mr Nilam Alawdeen, respectively the President and Vice President of CIBJO's Coloured Stone Commission; Mr Kenneth Scarratt, President of CIBJO's Pearl Commission and Vice President of the Gemmological Commission; Dr Thomas Lind, Vice President of CIBJO's Sector A; Dr Shane McClure of the Gemmological Institute of America; as well as Dr Hanco Zwann; Dr Yang Li Xin; Mr Rui Galopim de Carvalho and Mr Steven Benson, CIBJO's Communications Director. The GAHK representatives were Mr Eddie Fan, Chairman of GAHK; Prof. Mimi Ouyang; Dr Edward Liu; Dr Norman Siu; Mr Kent Wong and Prof. Yang Mingxing. Eleven countries were represented in the working group, which provided some indication of where they were headed, which was the internationalisation of the Fei Cui Standard.

Mr Kent Wong expressed the major stakeholders' key concerns and highlighted the important of consumers' understanding and perception on the value of the Fei Cui testing reports. Mr Wong emphasized this Fei Cui blue book would be a good platform to help boosting consumer confidence and promote fair trade of Fei Cui, benefiting both consumers and the industry as a whole. After all, confidence was one of the most important elements in jewellery purchase.
Dr Yang Lixin, AGA Secretary General and Director of the NGTC's Standardisation Office, presented his keynote speech, Pragmatic Cooperation and Mutual Development – For a More Internationalized Standard of Fei Cui, by pre-recorded video. Dr Yang gave his opinion that Hong Kong Fei Cui Standard was a good supplement to China's three national standards, namely Gems—Nomenclature, Gems—Testing and Fei Cui—Grading. In order to achieve the internationalisation of the Fei Cui standard, Dr Yang suggested that we should start from China, and Asia and gradually win the recognition of the international industry. Working together, an ISO standard of Fei Cui terminology and testing methods should be proposed and formulated in the future.

| | |
| --- | --- |
| | |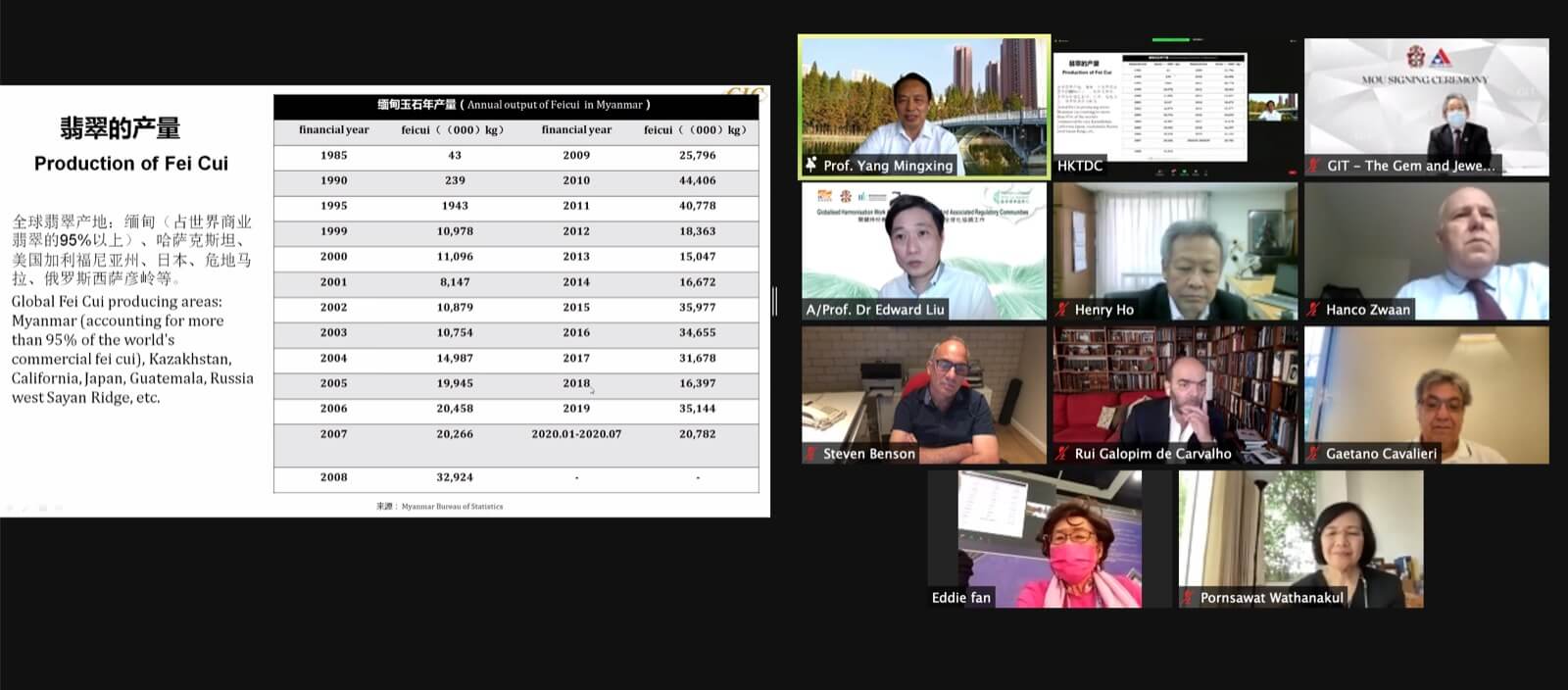 In his speech, Professor Yang Mingxing addressed the issues facing the Fei Cui trade and the scale of Fei Cui consumption around the world. Professor Yang proposed that GIC should be proactive in providing substantial support to the CIBJO/GAHK Fei Cui Working Group with the mutual goal of the Internationalisation of a Fei Cui Standard.

Moderator Dr Edward Liu summed up briefly, reminding us of the key points of the four keynote speakers' speeches, and then invited the panel speakers to give their views and suggestions, which they did as follows:

Mr Henry Ho spoke from the perspective of gemmological education and trade, urging members to invite greater participation from Myanmar, where most of the world's Fei Cui supplies originate; Dr Hanco Zwaan shared his experience of standard writing for the CIBJO Gemmological Commission, discussing the direct application in labs and in management, and also discussed the wider question of nomenclature for different varieties.
Prof Ren Lu suggested that Fei Cui miners and influential labs could be important resources of information for the Fei Cui Working Group; Mr Rui Galopim de Carvalho addressed the importance of global awareness of Fei Cui around the world and the importance of achieving the right balance between what the scientists say and the trade needs.

Dr Pornsawat Wathanakul briefly explained the nomenclature of Fei Cui and other jade varieties from a material science perspective and shared her experience in writing the CIBJO Coral Books; Mr Thanong Leelawatanasuk, representing Panel speaker Mr Sumed Prasongpongchai who was unable to be present, said that it was GIT's goal to support and promote Fei Cui in Thailand, to facilitate the application of ISO/IEC 17025 in their labs and to promote the use of the Fei Cui standard across the market.
After hearing the panel speakers' enthusiastic and valuable advice on the future work of Fei Cui Working Group, Dr Edward Liu thanked all onsite and online speakers and expressed heartfelt appreciation for their recommendations and support.
Mr Johnson Li also thanked all guests and participants on behalf of GAHK and brought the onsite event to a close.
And Mr Edward Johnson, moderator of the CTF zoom platform, thanked the online participants, who had joined from many different countries and time zones, and reminded them to turn on their camera to take on-screen group photos.

After the group photo section, the CTF zoom platform closed with a video of recorded messages of support and congratulations taken from the 20th April Fei Cui Standard Project Industry & Expert Advisers Online Meeting of Celebration of the Launch of Fei Cui Standard Website (feicui.gahk.org).